Good Luck to All Our Match Candidates!
The biggest day of the year for our graduates is only
21
days away!
What's coming your way? Here's a sneak peek from last year's #RossMatchDay.
Don't miss a thing and remember to keep watching for emails with more details.
*If you are a Match candidate this year, please remember to submit your address by Sunday, February 27 to receive a special Match Day 2022 swag box! Refer to the email originally sent on Wednesday, February 9 for more information.

Dr. Kashif Ahmad Participates on Illinois COVID-19 Task Force to Create Temporary Licensure Opportunity for International Medical Graduates
In the endless battle against COVID-19, health care systems across the United States are searching for ways to alleviate an exhausted health care workforce. For Illinois Governor Jay Robert Pritzker, one solution is to open pathways for qualified but unlicensed international medical graduate (IMG) physicians to provide critical health care services. Enter Ross University School of Medicine (RUSM) Associate Dean for the Academic Learning Environment
Kashif Ahmad, MBBS, MSc, MS (MEdL), PhD.
Dr. Ahmad, who lives in Illinois, is an active member of the Chicago Medical Society (CMS). In October 2021, he was invited by CMS President Dr. Tariq Butt to sit on the Illinois Department of Financial and Professional Regulation's (IDFPR) Division of Professional Regulation COVID-19 task force, a group charged with creating COVID-19 relief directives. Last month, Dr. Ahmad worked with Dr. Butt, Illinois State Representative Theresa Mah, Acting Secretary Mario Treto, Jr., and other medical professionals to pass a proclamation where foreign trained physicians who have successfully completed the United States Medical Licensing Examination
®
(USMLE
®
) Steps 1, 2 Clinical Knowledge, and 3 can apply for a temporary license to provide medical assessment, screening, and treatment for COVID-19 patients in the State of Illinois without requirement of completing residency. This directive supports health systems suffering from physician burnout and understaffing, while allowing IMGs to put their skills to use and continue practicing. It also paves the way for opportunities for unmatched residents to practice in the State of Illinois.
"It is an honor to represent international medical graduates and support our Ross Med mission. I am so excited to see temporary licenses being awarded to international medical graduates," said Dr. Ahmad.
The proclamation officially passed in January 2022 and is active through May 31, 2022.
If you're interested or know someone in the State of Illinois who wants to learn more, view the International Medical Graduate Temporary Practice application on the
IDFPR website
.


New Anatomy Lab Audio System
Medical sciences students in Barbados recently began using the newly installed audio system in the Anatomy Lab. This update to the RUSM learning environment allows students to stream audio directly to any device using the Listen Everywhere app. This integrated technology is just one of the many ways the university is enhancing the student experience as you advance through the curriculum. For full details about the new audio system, refer to the
email
sent to medical sciences students on Friday, February 18.
Questions about connecting to or using the new system? Please reach out to the RUSM Audio Visual Team via
email
.

In Case You Missed It: Barbados Curfew Lifted
The Barbados government has discontinued the country's daily curfew and RUSM operating hours have been adjusted:
Campus will remain open 24 hours a day, 7 days per week, unless otherwise notified.

Shuttle service has been expanded to align with our new hours. Please check the RUSM Safe App for updated schedules.

Note: The last shuttle will depart LESC at 11:30 pm.
For full details, view the
email
sent on Wednesday, February 16.
Reminder: Update Complio Health Documents and Profile Information
As a reminder, all student Health Documents must be kept up to date on Complio to ensure full compliance. We encourage all students to log into Complio and review all requirements and update any items showing a red 'X.' Also check your primary email address and ensure that it is updated to reflect your RUSM email.
To update the requested information by following the instructions below:
1. Log into your Complio account.
2. Click Edit Profile located on the left panel under your profile picture.
3. Under the Account Information, locate the primary email address field.
a. Update your primary email address to your RUSM email, ending with @mail.rossmed.edu.
b. You can also add a secondary email, but it is optional.
4. Click the box next to Send password recovery emails to Primary Email address.
a. This ensures that you receive the reset password link in your RUSM email, just in case you get locked out of your account.
5. Scroll down to the Custom Attributes section and update your University ID Number, if it is not already there.
a. Double-check the number for accuracy and that it starts with @00.
Taking these steps will prevent unnecessary delays in completing tasks like resetting your Complio account password and will ensure that you receive important reminders on expiring health documents.
Medical Sciences Students:
If you have questions or need further assistance, please email
MSHealthDocs@RossU.edu
with the subject line "Complio Profile Update Inquiry."
Clinical Sciences Students:
If you have questions or need further assistance, please email
HospitalSupport@RossU.edu
with the subject line "Complio Profile Update Inquiry."

Celebrating Black History Month
Dr. Eva Beaulieu Bonsu Inspires Black Women Medical Students to Conquer Barriers
When
Eva Beaulieu Bonsu, MD, '08,
left Haiti for the U.S. at age 15, she knew she was destined to become a physician. She was surrounded by doctors growing up. Her parents, a radiologist and a dermatologist, ran their own practices. "I don't remember wanting to do anything else but medicine," says Dr. Beaulieu Bonsu.
"When I was young, I watched my parents care for patients. In Haiti, there's extreme poverty and not everyone has access to health care. Often, by the time people seek care, their conditions are advanced. My parents never refused anyone and I saw the passion they had for medicine and helping people. So, I knew early on that I definitely wanted to pursue a career in medicine. I knew it wouldn't be easy, and I'd have to work hard to reach my dream."
Now an Internal Medicine Hospitalist, her goal is to inspire other Black women interested in medicine to reach their goals. "I was lucky to see my parents in the field, because I saw so few Black doctors. For me, it started with having the confidence to go to medical school. I believe that if it can happen for me, it can happen for other Black women who want to pursue medical careers."

Black History Month Awareness Wellness Event
The RUSM Wellness and Counseling Center hosted a wellness resource table on February 16 at the LESC campus to promote Black Health and Wellness,
this year's national theme for Black History Month.
Students and colleagues received valuable resources and information on managing their well-being as well explored several social media apps created by people of color to assist with monitoring well-being and mental health.
RUSM Student Government Association (SGA) Talent Showcase & Culture Show

The RUSM SGA Talent Showcase and Culture Show will take place on Saturday, February 26 at the Coverley Sports Field. This is an opportunity for the RUSM community to showcase their talents, traditions, and fashion, with the top three performances awarded a prize. People of all races, cultures, and genders are invited to participate and celebrate the beauty in what makes us all different. Only registered attendees can attend. Registration has closed.
Experience in medical school

Residency and beyond (Smith was the first African American man to be accepted into the internal medicine residency program at Magnolia Regional Health Center in Corinth, Mississippi.)

Cardiology Fellowship

Mission to promote health in underrepresented communities


Dr. M. Samir Qamar's Drive to Innovate, Partner with Patients in their Care is Unstoppable
Like many doctors,
M. Samir Qamar, MD '00,
is the go-to person when family members and friends want a quick fix for their ails. One such time many years ago when his sister phoned him complaining of a bad cough, he remembers saying, "I wish I could listen to your lungs." An innovator in the then new and fast-growing telemedicine approach to mainstream American medicine, Dr. Qamar was frustrated with the one glitch in treating patients remotely – he couldn't listen to heartbeats, look into their eyes, get vitals, and feel their embodied symptoms and pain.
That's when the RUSM graduate had an epiphany. The answer was at his fingertips (literally): smartphones and computers. He asked his sister to place the bottom of her cell phone against her bare upper chest and take a few breaths – voila, he could hear her lung sounds.
Enter the birth of MedWandTM, one of a myriad of creations that has earned the Las Vegas family physician the title of serial entrepreneur in health care and technology circles.

Observance of World Obesity Day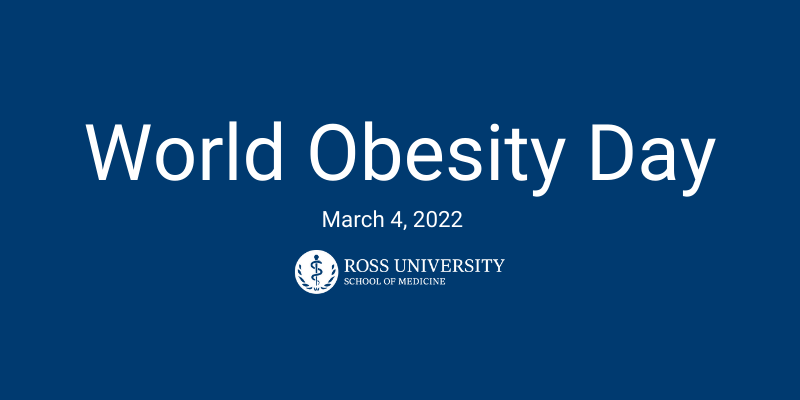 On Friday, March 4, the Office of External Affairs will raise awareness for World Obesity Day by hosting free body mass index (BMI) screenings from 8:00 am to 4:00 pm AST at the LESC campus. Giveaways may include RUSM-branded bottles, bags and pedometers.
"Obesity is a global issue that affects approximately 850 million people worldwide, with millions more at risk. We at RUSM are joining the call for action as we seek to raise awareness as a school whose mission is educating future physicians," said
Rhonda McIntyre, MBBS, FAAP, FRCP(C),
associate dean of external affairs. "About 39% of adults worldwide are overweight with about 13% being obese, resulting in a significant health burden and reduced life expectancy. There is a continuing rise in the prevalence of obesity globally, leading to other chronic diseases. It is critical to address obesity as a public health crisis with a focus on prevention beginning in early childhood."

Faculty News Library
Discover stories about RUSM faculty who have recently joined our Barbados campus:
Apply Now: $47,500 of Scholarships Available
Don't miss these scholarship opportunities available for current RUSM students! Empower Scholarship Fund (ESF) applications are being accepted now through March 18. ESF has only received a handful of applications. There are 16 scholarships available to RUSM students. Visit
https://empower.awardspring.com/
to see eligibility criteria and apply for a scholarship today.
Want to apply but don't know where to start?
Request a letter of recommendation!
Using your Empower Scholarship Fund account, send a letter of recommendation request to a faculty member, employer or other community leader who knows you well and can speak positively on your behalf.
30% of your application score is based on your letter of recommendation.

Make sure this person knows you well and is willing to share specifics about your involvement on campus, work settings or within the community.

Give your letter writer plenty of time to develop and submit their recommendation.

Use the ESF Application Tips

webpage

to help get ideas on how to submit an outstanding application.


Call for Applications: Peer Mentor Program
RUSM Office of Campus Life is inviting students to apply for the Summer 2022 Peer Mentor Program. Applications are open now through March 25 and you can apply online
here
.
Peer Mentors take on the role of introducing incoming students to the RUSM community and culture and encourage students to take an active role in their medical education. You will help a group of approximately 10 incoming students and work with them from the admittance process through the end of their first semester, including New Student Orientation and Welcome Week programs, social events, group or one-on-one mentoring sessions, and presentations. You will be a valuable resource for your group and provide guidance and support as students acclimate to life as a medical student studying in Barbados.
In preparation for your role, you will receive Peer Mentor training, leadership training, and have the support of advisors and your fellow peer mentors as the Peer Mentor Program continues to develop. For more information about the role, the program, and expectations, please find more information
here
.
Mental Health Emergencies in Barbados
Call 1.246.245.1622 Mon-Fri, 8am - 5 pm ET

After hours, call 1.246.266.3342
Mental Health Emergencies in the US
The Student Timeline is a tool that contains information on all four years of your journey — contact information, important forms, clinical rotation requirements, match information, the graduation process and more. You can easily access the tool by clicking
here
. If you are having trouble accessing the Student Timeline, please reach out to the relevant IT helpdesk —
Barbados IT Helpdesk
or
Miramar IT Helpdesk
.

For your quick reference, here's a list of important student support team contacts to assist you on your journey at RUSM:
STUDENT GOVERNMENT ASSOCIATION